Uncle Arnold's BBQ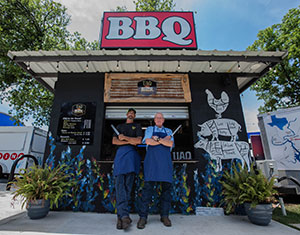 A native Austinite, Arnold's love and admiration for true central Texas BBQ dates back to the early '60s; he can still vividly recall the smell of the sawdust woodchips on the floor and the taste of the deep mustard sauce at Dale Bakers BBQ. Whether it was the reminiscent smell, taste, experience, or the sheer fact that going to Dales was a delicacy so rarely he got to enjoy, BBQ has always had a lure and was seemingly to blame for Arnold's fake adolescent "field trips." Having deaf parents, Arnold found his innate sales skills at a young age when he was caught sneaking across the nearby Muny golf course to get BBQ and lied, convincing his parents into believing he was on a school trip. 
Into the late '60s, Arnold got smarter & began cutting lawns to afford his habit, which expanded his appetite to what the scene had to offer: BBQ royalty including Reeses, House Park, Louie Mueller, Kreuz, Southside, Biggers, Luling City Market, Salt Lick & to him the infamous Bert's BBQ. He knows a good thing when he sees it, and very quickly, Bert's became what is now, likely the single most impressionable and influential memory that paved his future as a central Texas BBQ pitmaster himself. Just a few miles up the road from his house, he began frequenting Bert's 2-3x week – quickly Bert capitalized on Arnold's habit, recruiting him to work nights and weekends. With some time under his belt, he expanded to helping Bert's sons cater around the UT campus and eventually even buying his own pit to post up on the side of the road. It took no time for Arnold's refined palate to taste success and recognize this was his calling! He quickly was afforded the opportunity of opening his open brick and mortar location, "Blom's BBQ," when Bert became sick and sold him his spot on Pond Springs Road In Austin, TX (1989). You can say his weekly habit paid off!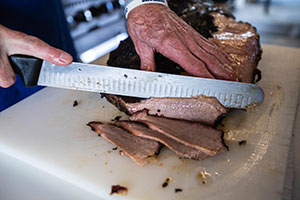 Blom's BBQ dive cultivated a following, opening many doors & opportunities. An entrepreneur and successful owner of many restaurants in Austin recognized Arnold's talent as a true pitmaster, loved his "dive," and encouraged Arnold to come work at his restaurant over the weekends so Arnold could get a feel for operating something bigger. In no time, the two partnered into what then morphed into a larger concept & location in north Austin named "Blom's BBQ and Burgers." Arnold reached what he believed to be the height of his pitmaster career, experienced lines out the door, and still recalls some of the notable engagements it generated: Catering many famous sports teams, singers, entertainers, and acting as the celebrity judge at the Austin Livestock Show & Rodeo BBQ cookoff. 
After retiring from the real world and celebrating 7 years of sobriety & kicking his feet up with his lifelong love, three daughters, and seven grandchildren, his BBQ cooking became merely a hobby, or so he thought! That all changed when his nephew opened Wakepoint on lake LBJ in Kingsland, TX. It took no time for Arnold's nephew to quickly identify what Wakepoint needed. You can't blame the guy. Nothing pairs better with lakefront views, cold beer, and live music than classic central Texas BBQ, especially when prepared by one of its truly original pitmasters, his own uncle Arnold. Uncle Arnold's BBQ "UAQ" came to life, and as Arnold would say, "the rest is history."